--------WARNING

: One Mildly Graphic Corpse Photo Included Below
---------
On April 15, 2013, two Muslims, and older and younger brother from Chechnya
blew up two bombs upon innocent by-standers at the Boston Marathon, killing a few, maiming many.
And as you see in the picture above, the older brother dressed in blue, the younger in the white baseball cap (circled), didn't care that at times quite a few were African-Americans around them within arm's reach, (I count 5 in picture #2's "no bag", offered below)
which will perplex Louis Farrakhan's Nation of Islam followers to no end, because to a Jihadi, you are already living corpses for the worms as though you were without souls - without forgiveness - and without redemption.

It is a philosophy embraced by the Left, and embraced as part of Obama's past and current ideology.
The older of the two was living the American dream.

He had successfully arrived to the United States, and Naturalized as a United States Citizen on September 11, 2012 (the anniversary of 9/11/2001 that took out the World Trade Centers in New York City and the same day as the Ben Ghazi Libya terrorist attacks).

The older brother aspired to be an Olympic boxer, had a wife and child, and had a scholarship that paid for his attending M.I.T. (Massachusetts Institute of Technology, one of the best universities to transition to a 6 figure white collar job in the whole world, not just in the U.S. only).

And yet, he was willing to throw it all away to kill and maim, when the very utopia of a peaceful and uber-prosperous existence was within his grasp.

Why?
Liberals tell us that wealth and freedom from Christianity is all you need for utopia. Problem is, Liberals think the outward acts and appeasements of sex, drugs, cash, are the cure-alls to sin and wickedness, or "all the evils of the world" (which comes from the heart). You cannot cure a spiritual depravity and mental idiocy by throwing money at it, and denying the true cure, which is eternal and 100% cure is found alone in the Savior Christ Jesus, the Son of GOD.
In his Islamic belief system, you would think that Tamerlan Tsarnaev, age 26,
someone who was about to receive all the beneficent blessings of Allah in this life, according to his view, would be content to live his life in peaceful co-existence with all humanity peacefully co-existing all around him. And of course, you would be wrong.
But who can understand the mind of a Jihadi like a fellow Jihadi? After all, even Obama (only 32 years ago) was introduced to and entered into a Jihadi dedication / commitment ritual in Hyderabad India with a friend from Occidental University, with whom he traveled there in 1981.

But like when you get to the 33rd level of the Masonic Lodge, no matter what sins a certain ranking member of your cult commits, even though it be an act of treason or mass murder, you are to shield, protect, excuse, and if necessary aid in the escape of that individual.
Obama of his own accord immediately bows the knee and kisses the ring of the keeper of the two holy mosques of Islam, the King of Saudi Arabia.
No matter what the prosperity heaped upon them, the ultimate goal of the Jihadi is anarchy and eventual death upon others and themselves, and in indifference to their families.
The older brother
and naturalized U.S. Citizen
Tamerlan Tsarnaev, age 26,

followed and cited a Muslim Cleric, Feiz Mohammed,

who has the opinion that any woman who is raped, it's her fault or guilt, because
"Strapless, backless, sleeveless, showing their legs, nothing but satanic skirts, slit skirts, translucent blouses, miniskirts, tight jeans: all this to tease man and appeal to his carnal nature.
"Would you put this sheep that you adore in the middle of hungry wolves? No... It would be devoured. It's the same situation here. You're putting this precious girl in front of lustful, satanic eyes of hungry wolves."
In effect, even the cleric Feiz Mohammed (whom the older brother followed) admits that Islam is Satanic and that its followers are to be equated with ravenous dogs or "hungry wolves" having no moral need to control their sexual appetite upon any female victim, anytime, any place, anywhere, UNLESS she is covered completely in a burka and only her face at most is exposed (preferring perhaps just an opening in the nasal and ocular area of the face).
In a videotaped message of why he was doing what bombing and killing in Boston he was about to do, the younger brother
while ranting almost incoherently, Dzhokhar Tsarnaev stated that:
"But this, what's happening right now, is a test for us, this is a test for us. This is a test to tell the truly faithful from liars and the true believer who puts his faith in Allah from the one who hesitates and doesn't believe entirely."
In effect, the main attraction of terrorism to a fundamentalist Muslim is religious fidelity, and that no act of violence or barbarity is sin.

Their argument thus becomes this: Every vice or act of wickedness, no matter how extreme, is as if granted total absolution...so why not murder, rape, maim, etc.?

In a society that excuses mass murders at Fort Hood while shouting "Allahu Akbar " / (theologically more correctly translated as) "Satan is Great," and then writes it off as workplace violence with no capital punishment consequences and no fear of retaliation against the Muslim Communities of the Nation they are committing acts of violence and mayhem against, why should anyone be afraid to be a terrorist anymore?

And you know what?

That is precisely what Obama wants, and is politically maneuvering for...because if enough crises of terror are created by these murderers, then he can ride the wave of hysteria to do what he cannot do in their absence.
On Friday April 19, 2013, we came to a point where Local Law Enforcement still consistently and rightly does their job: one terrorist is dead -- not from the otherwise fatal bullet wounds he received in a running shoot out with U.S. Localized Law Enforcement...but he is certainly dead because his own brother ran over his face with a stolen Mercedes while fleeing Police
-- and the other is later captured. The large purple blotching is where the guy's own brother ran over his face with the stolen Mercedes while he was still alive.
Legitimate questions are being raised as to their on scene diplomatically protected Saudi National alleged Al-Qaeda Handler, Abdulrahman Ali Alharbi,

who is himself related to 5 Al Qaeda Terrorists already in custody in Guantanamo Bay, Cuba, and 6 known most wanted active (right now / presently) Al Qaeda fighters listed as wanted by the Saudi Government;
http://shoebat.com/2013/04/17/innocent-saudi-has-ties-to-several-al-qaeda-terrorists/
was released on reasons of Diplomatic Immunity, which was regurgitated as "National Security" and is allegedly scheduled to be deported Tuesday, April 23, 2013.
Walid Shoebat, at the immediate above link, on April 17, 2013, lists the Al Qaeda familial relations of
Abdulrahman Ali Alharbi was posted by the Saudis:
#15 Badr Saud Uwaid Al-Awufi Al-Harbi
#73 Muhammad Atiq Uwaid Al-Awufi Al-Harbi
#26 Khalid Salim Uwaid Al-Lahibi Al-Harbi
#29 Raed Abdullah Salem Al-Thahiri Al-Harbi
#43 Abdullah Abdul Rahman Muhammad Al-Harbi (leader)
#60 Fayez Ghuneim Humeid Al-Hijri Al-Harbi
Source: http://aalhameed1.net/vb/showthread.php?t=1565
Imprisoned at GITMO:
Salim Salman Awadallah Al-Sai'di Al-Harbi
Majid Abdullah Hussein Al-Harbi
Muhammad Abdullah Saqr Al-Alawi Al-Harbi
Ghanem Abdul Rahman Ghanem Al-Harbi
Muhammad Atiq Uwaid Al-Awfi Al-Harbi
Source: http://www.muslm.net/vb/showthread.php?169019-أسماء-(90)-سعودياً-لا-زالوا-محتجزين-في-جوانتانامو
In Syria, Al Qaeda members are being nurtured as double agents, who as long as they wage war outside the borders of Saudi Arabia, may receive material and diplomatic support in their causes.

That, I believe, is the relationship that is being nurtured with Abdulrahman Ali Al-Harbi,

who is given diplomatic immunity in exchange for being a liaison between his family and familial members of Al Qaeda,

including Abdullah Abdul Rahman Muhammad Al-Harbi.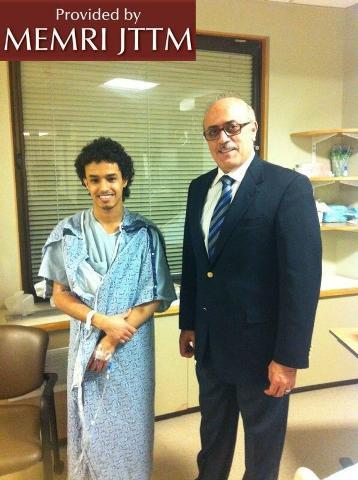 Saudi Consul General to the United Nations, stationed in New York,

Azam Al-Qain, pictured with Al-Harbi. Al-Harbi (also written "Alharbi") is believed by some in Local Law Enforcement in the Boston area to have been the on scene Al Qaeda handler for the Tsarnaev brothers, he is known to have been at the same forbidden zone location where at least one of the back-packs was located, and was injured by the shrapnel on scene.
Al-Harbi is specifically alleged to have been present and giving instruction to the Tsarnaev brothers at the scene at the Boston Marathon Finish Line on April 15, 2013.

Because one Tsarnaev brother survived, it is one strong possibility that we can expect a Saudi or other diplomatic assassin (or at least its attempt) to prevent a living witness, Dzhohav, from giving legal testimony in a court of hearing or what have you.

And because that official will have diplomatic credentials, of course, Obama will let him go and just cite "national security" for the sake of our embassies abroad.
on April 17, 2013 and apparently removed by them on April 20, 2013 to Black Out the Saudi Royal Family Connection To The Boston Marathon Massacre.
Secretary of State John Kerry met Saudi Arabian Foreign Minister Saud Al-Faisal on Tuesday April 16, 2013 behind closed doors, and allegedly received a dressing down.
After which on on Wednesday, April 17, 2013, Saudi Arabian Foreign Minister Saud Al-Faisal then did the same to Obama at the White House on behalf of Al-Harabi.

The cover story was given that the closed door discussions were about Syria.
The White House Press Release reads:
"…Obama joined National Security Advisor Tom Donilon's meeting today with Saudi Foreign Minister Prince Saud Al-Faisal. The President and Prince Saud Al-Faisal reaffirmed the strong partnership between the United States and Saudi Arabia and discussed developments in the region, including the conflict in Syria. Prince Saud Al-Faisal offered his condolences for those affected by the attack in Boston. The President asked Prince Saud Al-Faisal to convey his best wishes to King Abdullah bin Abd Al-Aziz Al Saud."
Israel's Intelligence News Service reported that:
FBI Special Agent Richard Deslauriers told reporters Tuesday, April 16, that the probe had no leads 18 hours after two explosions blew up at the annual Boston Marathon's finishing line, killing three people and injuring 176 – 17 critically.

debka

file

's counterterrorism sources can disclose however that the investigation has in fact homed in on a suspected terror cell of three Saudi nationals, very possibly tied to Al Qaeda.
The flat they share in the Revere, Massachusetts, near Boston, was searched after the questioning of one of the suspects, a Saudi student, who was hospitalized with badly burned hands. One of his flatmates was taken into custody over "visa problems." A third is on the run. All three hail from a prominent Saudi family belonging to a tribe from the Asir province bordering on Yemen.
The search for the wanted man led to the grounding of a plane at Logan International Airport Tuesday. The investigation has meanwhile broadened out to places in and outside Boston in a search for the cell's accomplices.
The origins of the Saudi cell, if confirmed, strongly suggest that Al Qaeda of Arabia – AQAP –succeeded in planting a cell in the United States for the bombing attack in Boston – and possibly more than one in other parts of the US.
Asir Province is known as a hotbed of resistance to the Saudi throne in Riyadh.
Our sources earlier traced a link to a Chechen Wahhabi cell suspected of being funded by Saudi al Qaeda.
Unfortunately, I personally would argue that in this instance, Debafile's experts have miscalculated that the Chechnyan brothers were Double Agents for the GOVERNMENT of the United States and that of Saudi Intelligence.
The cover-story does not wash.

Now if Debka's Intel experts would offer that members of the Muslim Brotherhood within the Obama Administration with the help of the Saudis actively trained these terrorists over the last 5 years, then it is smooth and seamless, it plays (i.e., it is logistically plausible).

The Muslim Brotherhood by order of Obama has so much U.S. National Security Clearance, that many of them, even those forced upon the Federal Bureau of Investigation, can actually operate as independent operatives with no accountability and can allegedly dip into slush funds set aside by Obama in some of the Stimulus monies for those purposes of waging Domestic Terrorism within the United States of America.

If the younger brother Dzhokhar has any knowledge of the funding given his older brother and him by such figure in the F.B.I., I would also say is just as possible, if not a little moreso, that a Muslim Brotherhood member of the F.B.I. could also be ordered to assassinate Dzhokhar before he talks.

Thus, we could literally see Obama's first Muslim Brotherhood internal assassin strike and then turn the gun on himself, so Obama can just say, "Oh well.

Workplace violence. Time to move on.

As Hillary says, 'What difference does it make now?'"
Neither above scenario rises to above a 40% possibility, but 2 out of 5 in the Intel Community is high enough odds to double the watch and sentries and security checks and clearances...which is what I would advise those directly keeping Dzhokhar to do as a preventative precaution.
Will Dzhokhar make it to the end of the week, to at least April 27 of 2013, and not be assassinated by either someone with Diplomatic Immunity or a Muslim Brotherhood member of the F.B.I. who would then commit murder-suicide?

We can only hope it does NOT happen, and that Dzhokhar lets everything come out and wake the American Press the hell up.

This attack is only a primer. The enemy will not be content to have less bombings in America than they inflicted upon Israel with its suicide-homicide bombings. Worse things are being planned, simply for "just because", and they will have the same callousness of
Dzhokhar, who had absolutely no problem running a stolen Mercedes over his brother's face and killing him, in order to flee for his life to fight another day. Thank GOD that
Dzhokhar was NOT successful in getting fully away or causing more harm than he did.
And yet..for NOW...in Boston...
It's all over.

The flags are waving, the police are being thanked and shown great appreciation for their service in going after the terrorists an being successful.
Yes.

It's all over...or is it, "it's all over for now"?
[This post was last updated 12:25 am Pacific on April 22, 2013]